He's still my favorite muse...
November 11th, 2007 (08:18 pm)
current mood: creative
current song: The Exciters "Tell Him"

I've been thrilled to watch David Anders on Heroes this year. As everyone that knows me is aware (hell, it will probably say "Sark's Mistress" on my tombstone) the character of Sark from Alias (played by David Anders) is my favorite character of all time. I've watched David in all of his other projects because I love his charisma, and yes, he's not hard to look at either. Yum! My favorite non-Sark role has definitely been his Heroes work.

Drunken, limey, samurai Kensei = Absolute brilliance! =D

The character itself was vastly different from Sark in many ways. (Yes, I am referring to the character of Kensei in the past tense due to the now public knowledge that Kensei has evolved into the character of Adam Monroe.) However there were moments where 'the dark side' came sifting behind David's eyes. He has a amazing gift for showing emotions just beneath the surface. David seems to have chosen 'biting his bottom lip, then slowly changing it into a smirk' as his requisite 'evil' facial cue. And since the man's got great lips and an incredibly sexy smirk, I fully support his 'evil face' decision. =)
Also, in an entirely coincidental Kensei mirrors Sark moment, these little weapons pics make it blatantly clear to me why I'm enjoying him on Heroes so damn much. On one side, Sark with a sexy weapon. On the other side, Kensei with a sexy weapon. David's certainly growing up…but still positively dreamy. *swoon*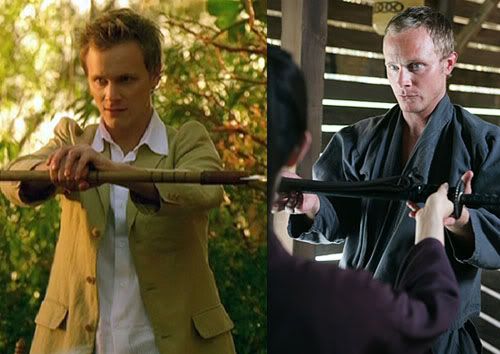 I haven't made any fanart for quite a while. I wanted a Kensei wallpaper for my desktop at work though, so I sat my bum down and dusted off my photoshop program. Considering I haven't dabbled with photo editing for nearly a year now, I am very pleased with how this wallpaper turned out. I've included a thumbnail below to show you. The full wallpaper is behind the cut. Enjoy!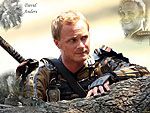 *swoon*

I'm struggling with linking..so here's the address for the 1024 x 768 version. Because bigger is better. =)
http://img.photobucket.com/albums/v490/toxkarma/wallpapers/tkdakensei.jpg
===============================================================================================